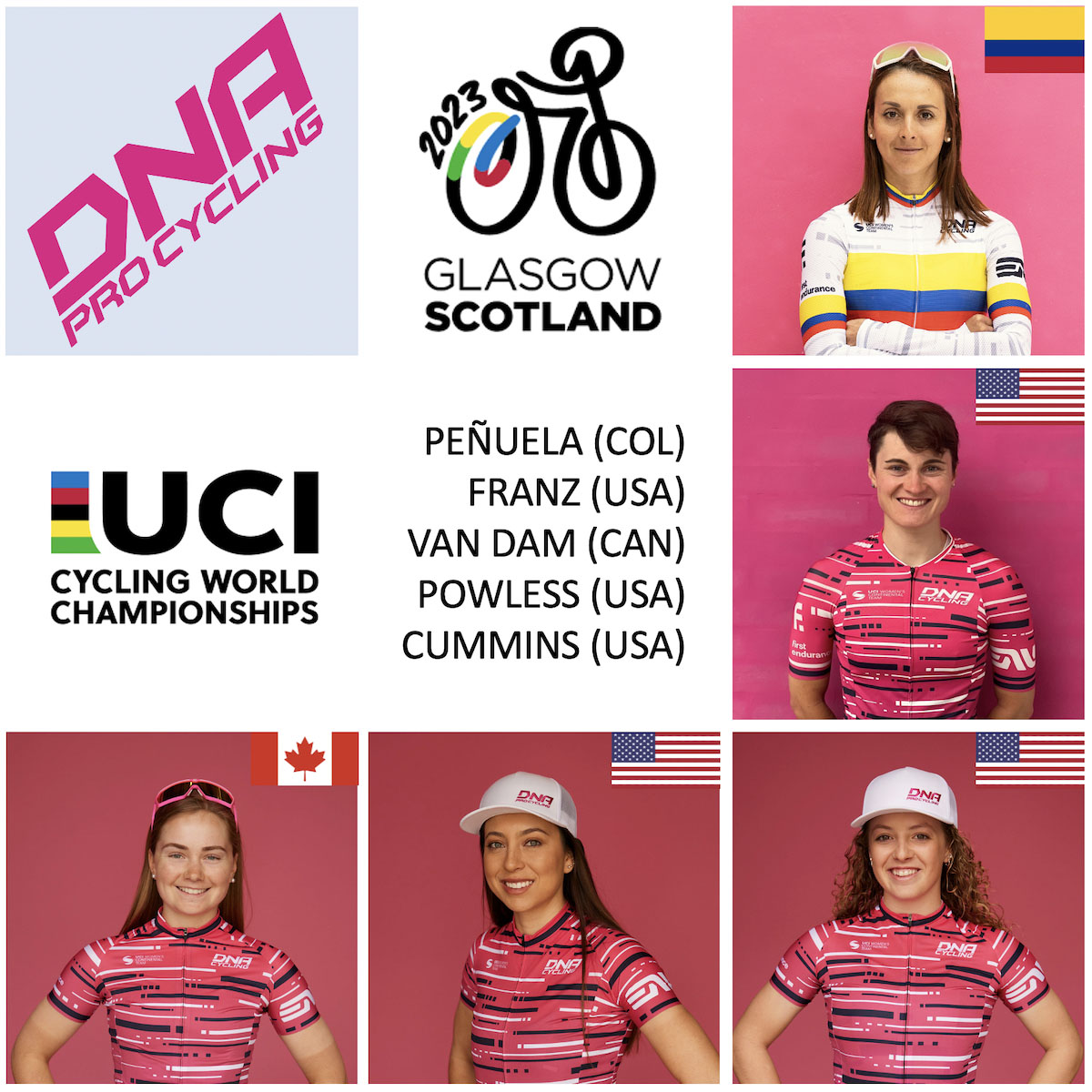 Five DNA Pro Cycling Riders to Compete at UCI Cycling World Championships
by
August 1, 2023
Salt Lake City, USA (August 1, 2023) DNA Pro Cycling, a UCI (Union Cycliste Internationale) Women's Continental Team, is proud to announce that five of its world-class athletes, representing three countries, have been selected to participate in the 2023 UCI Cycling World Championships. The Championships, to be held in Glasgow, Scotland, will feature the biggest collection of cycling talent ever assembled, with riders competing for the highly coveted rainbow jersey across 13 disciplines.
DNA Pro Cycling's Diana Carolina Peñuela (COL), Sarah Van Dam (CAN), Heidi Franz (USA), Shayna Powless (USA), and Olivia Cummins (USA) will represent their respective nations and vie for the top spot on the podium.
Peñuela, a two-time and current Colombian national road champion, will compete in the world championship road race and the individual time trial. Van Dam, gold medalist in four events at the 2022 Pan American track cycling championship and the current Canadian U23 national road champion, will demonstrate her versatility by participating in both the track and road world championships. Franz, who claimed 5th place at this year's USA Cycling national championship road race, will compete in the world championship road race. Powless, winner of the Points Classification at the 2023 Tour of the Gila, and Cummins, the 2022 U23 US criterium national champion, will both test their mettle in world championship track events.
Sports director and team co-owner, Catherine Fegan-Kim, shared her excitement for the team's strong representation at the World Championships, saying, "We are absolutely thrilled to see five of our talented athletes representing their countries and DNA on the global stage. Their selection is a testament to the hard work, dedication, and talent of our riders and staff. These athletes will not only represent their nations, but also the DNA Pro Cycling ethos of perseverance and excellence."
About DNA Pro Cycling
DNA Pro Cycling is committed to fostering talent, promoting health and fitness, and demonstrating the strength of women in sports. We compete at the highest levels to inspire individuals around the world to do the same.
Based in the United States, DNA Pro Cycling has been an elite women's cycling team for over a decade. The team is registered as a UCI Women's Continental Team and has riders from the United States, Canada, Colombia, Mexico, and Great Britain. To learn more about DNA Pro Cycling, visit www.DNACyclingTeam.com, or follow the team's journey on Facebook (facebook.com/k4racing), Instagram (instagram.com/dnak4), and Twitter (twitter.com/DNA_K4).