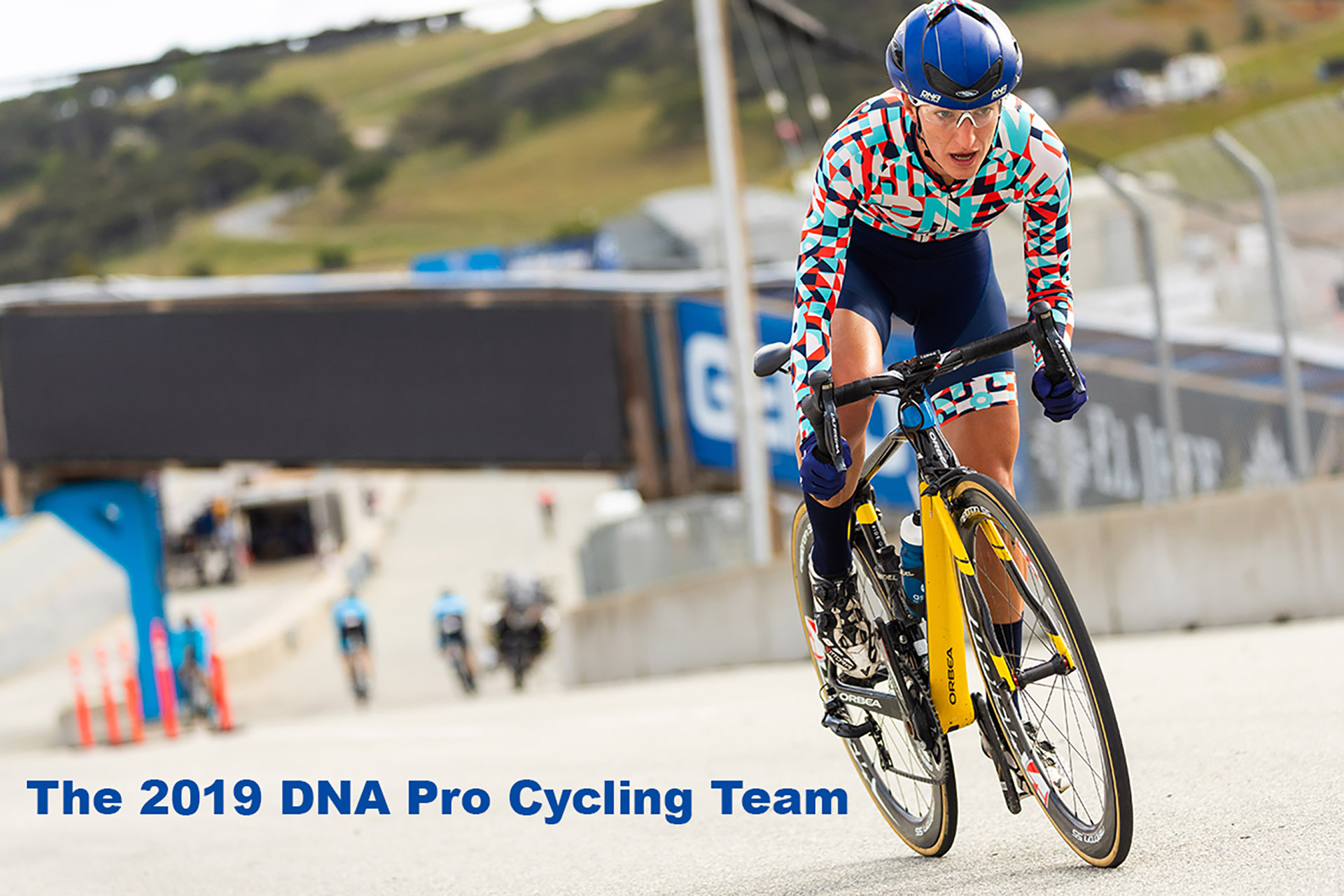 DNA Pro Cycling Team Announces 2019 Roster
by
September 17, 2018
Salt Lake City, UT (September 17, 2018) – The DNA Pro Cycling Team is pleased to announce a diverse, multi-disciplinary squad of women racing in DNA colors in 2019. The team will compete in events from classic professional one-day road races and high-profile criteriums to popular gravel races and established mountain biking events.
"We are very excited to bring together a fantastic squad of professional road racers, criterium specialists, a track star, and a veteran mountain biker," said Catherine Fegan-Kim, the team's co-owner, "2019 will be a truly unique season for us."
The team will feature a mix of riders from experienced pros to young up-and-coming talent. Amy Charity, who competed in the 2015 UCI World Championships, will be joining the team to tackle epic gravel events. Young riders Katie Clouse (multi-time US Junior National Champion in road, cyclocross, and MTB disciplines) and Michaela Drummond (multi-time New Zealand Junior National Champion in road and track, and a Junior World Champion in team pursuit) are returning to DNA's 2019 squad. New for 2019 will be veteran mountain bike pro Sarah Kaufmann along with several US criterium specialists.
The 2019 DNA Pro Cycling Team Roster
Melanie Beale
Amy Charity
Katie Clouse
Lauren De Crescenzo
Michaela Drummond
Mandy Heintz
Sarah Kaufmann
Kimberly Lucie
Hanna Muegge
Hannah Shell
Brenna Wrye-Simpson
The DNA Pro Cycling Team is a registered USA Cycling Domestic Elite Team and is a joint venture owned and managed by FCS and K4 Racing. The team's website is www.DNACyclingTeam.com. Official social media properties of the DNA Cycling Team: facebook.com/k4racing, instagram.com/dnak4, and twitter.com/DNA_K4.
DNACYCLING has been the title sponsor of the team for 6 years. The Company designs and manufactures custom kits for individuals and teams. Each custom piece is produced with the highest quality and handcrafted with Italian flair and a sense for dressing up well. Whether riding on dirt or asphalt, DNACYCLING is dedicated to all those losing themselves in the ride. Functionality, simplicity, and flair. www.dnacycling.com #ItsOurDNA
2018 team sponsors: Cotton Sox Photography, Asend Nutrition, Rudy Project North America, Doc's Skincare, Altra Running, Arundel Bicycle Company, Attract Interact, Wilkins Finston Friedman.
MEDIA CONTACT – Catherine Fegan-Kim, k4racingteam@gmail.com